Are you wondering why you're not getting enough sales?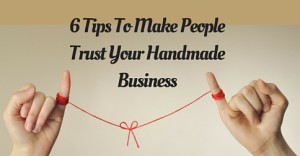 With so many stories about online scam and damaged goods received by customers that are circulating around the web, customers are now picky when it comes to buying online.
All the little details in your shop add up to create the big picture of your business. Your product photos, listing description, reviews and About page all offer clues to shoppers about how you operate — and can help them feel confident making a purchase from you.
Here are 6 tips you can do to give buyers the confidence to make a purchase from your shop.
1. Look Professional
Buyers feel more confident purchasing from sellers who have been thoughtful about their shops' branding.
A cohesive, professional-looking shop — with a Shop Icon, Shop Owner photo and visually similar imagery — can set customers' minds at ease. By taking the time to create a strong brand identity through your Shop Icon and photography, you give buyers a sense of the care you put into running your business.
Your Shop Icon is especially important because it's the visual representation of your business. Not only does a strong visual brand give shoppers a sense of your shop's personality, it's also an indication that you're invested in your business's future — and that you'll be around when they're ready to make a repeat purchase.
Use your own creative skills to create a logo and other branding elements for your shop or seek out the services of a designer who can help your brand look polished.
2. Be Personal
Including a photo of yourself on the About page. Your About page is the first place shoppers will look if they want to get to know you better.
If your About page hasn't been filled out, take this opportunity to share how your shop got started, list what inspires you and let customers know who else works on your business with you.
Add even more personality to your page by uploading a Shop Video so shoppers can hear about your products and processes straight from the source.
3. Make Your Reviews Visible
You work hard to provide great products and customer service, can, in turn, lead to positive reviews. Seeing that others had a positive experience with your shop helps new customers feel comfortable making a purchase — especially if they've never purchased from your shop or Etsy before. How you handle unhappy customers can also result in positive feedback.
4. Answer Questions Quickly
A quick reply can help dispel any hesitation a shopper might have about your business or your products. When buyers ask questions via the "Contact" link on your shop, responding quickly shows them that your shop is active.
It also gives you an opportunity to make a personal connection, which can lead to repeat business.
Buyers who are happy with the customer service you provide are more likely to remember your shop and purchase from you again.
5. Set Clear Policies
Clear and comprehensive Shop Policies can help buyers make more informed purchases. Instill confidence in buyers with policies that are fair and positive. Use your policies page to describe your shipping methods, and assure shoppers that your products are represented accurately.
6. Provide Clear Photos and Listing Descriptions
Clear product photos and listing descriptions that are packed with information will put to rest any remaining concerns a shopper might have.
Clear photos that put your product in the spotlight — without messy backgrounds or props that cover the product — will help shoppers feel confident that the item they'll receive will look like the photographs.
In your listing descriptions, be sure to include any relevant dimensions. A customer who thinks she's buying a dainty charm necklace will be disappointed when she receives a chunky statement piece.
Also spell out what materials were used to make the item and any relevant care instructions, such as whether it can be machine washed.
At the end of your listing description, add links to your Shop Sections and similar listings from your shop to help shoppers find exactly what they're looking for.
I live in the one of the most beautiful places in the world on the Sunshine Coast in Australia with my wife and our 2 dogs, Poppy and Mia. Since 2009 I have helped over 15,000 handmade business owners to grow their business with our software and
free tools
designed for todays entrepreneurial artisan.
Latest posts by Gary Capps (see all)