Do you want to optimize your handmade business' webpage? Do you think keyword research is too complicated? Are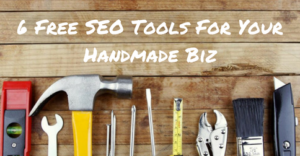 SEO tools too expensive?
Then this article is for you!
For basic SEO for your Etsy or website, the Google Keyword Planner is your most convenient tool.
It is useful but it's not supposed to be your only source for keywords and tags ideas. I am not suggesting that you stop using it but you should use it wisely and in collaboration with some other keyword research tools.
Now, you may be too busy with your handmade projects; and investing time and effort on a keyword research tool seems to be too much for you.
Before you jump on board with a keyword tool that will cost you a recurring monthly fee or a one-time hundred dollar fee, make sure you're exhausting all of your free options first. There are plenty of ways to think outside the SEO box in order to discover unique and creative keywords or tags for your listings that might just give you the boost you need to sell more.
Here are some (free) ways to build your online presence without too much effort:
1.Wikipedia
Wikipedia is not only a good source of random information. It can also be your SEO partner. You can just enter in a keyword or product type and after the main definition on the page is a list of related terms and acronyms.

For example, if you search for "Candle" Hello potential new keywords!
2.Thesaurus
Another classic source of information other than Wikipedia is Thesaurus. You can use an online version or, if you really want to feel retro, dust off that reference book on your parents' (or grandparents') bookshelf and give it a try.
This underrated tool is useful when it comes to products which might have more than one name, or be used in a different context, or have a different name in British English.
If you want to use Thesaurus for keyword research
Use common misspellings of the synonyms in your Etsy or Amazon listing (preferably in the backend search terms
Use plural and singular forms of synonyms
Look for words that describe the item, e.g. round, rotund, obtuse, spherical
If you are selling handmade handkerchiefs, you might want to consider neckerchiefs, serviettes, scarfs, hankies or even tissues as keywords.
3.MetaGlossary
Metaglossary is a tool that you probably never heard of. It is a site with a simple search bar that generates related terms after you input your topic or initial keyword.
If you are a handmade chocolate maker, you will find these terms:
You will see that Metaglossary not only shows you definitions from a bunch of different sites, but it will also deliver big keywords related to that term.
4.Online Reviews
If you read online reviews whether it's for you or your competitors products, you'll not only be able to see what your customers praise or complain about, but you'll also be able to see what key phrases and terms they use to discuss your product. That will spark ideas for search terms, because you want to make sure you're targeting keywords your customers will actually use.
5.Customer Emails
A message from your customers or prospective customers is like gold. When people submit queries via your website or social media, they are virtually handing keywords to you on a silver platter. So keep that in mind!
6.Your Site's Search Bar
If you have your own website to sell products, this is another perfect strategy to excavate your customers' minds to learn how they think about and talk about your services or products.
You can take keywords that you learn from these sources and evaluate them in tools like Google Keyword Planner, Ubersuggest, SpyFu, etc. Doing this can produce great results.
So have you used any of these tools? Do you find it useful? Please let us know in the comment.
I live in the one of the most beautiful places in the world on the Sunshine Coast in Australia with my wife and our 2 dogs, Poppy and Mia. Since 2009 I have helped over 15,000 handmade business owners to grow their business with our software and
free tools
designed for todays entrepreneurial artisan.
Latest posts by Gary Capps (see all)