A important but mostly overlooked aspect of successful sales at a craft show is the design and decor materials of your booth.
Don't think all you need to do is set up a couple of tables, put your craft item on top, and then sit back and wait for sales to roll in.
Believe me, the design and display of your products can literally make the difference between excellent and abysmal sales.
Here are 5 DIY craft show booth decoration tutorials:
1. DIY Ribbon Rose
DIY Ribbon Rose – You can stick these lovely ribbon flowers to your craft show banners or table covers. You can use it in any way you want it.
2. DIY Fabric Flowers
DIY Fabric Flowers – These elegant fabric flowers will make a great addition to your jewelry displays.
3. Gorgeous Paper Flower Garland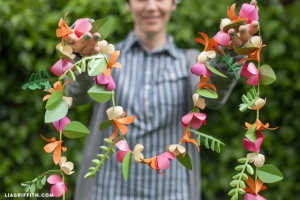 Paper Flower Garland: The prettiest garland yet, you won't have to worry about these flowers dying. Make the flowers in the colors of your choosing to compliment your booth. You can even use glitter or metallic paper for a glam-tastic DIY garland.
4. Pinwheel Paper Garland
Pinwheel Paper Garland: Affordable and crazy easy, this garland is perfect to grab the attention of a browsing craft fair goer.
5. Giant Pom Pom Decor
Giant Pom Pom Decor – This decor is just so crazy fun because it's giant! Who doesn't like gigantic pom poms? This is definitely a show-stopper and it's so easy to use your leftover yarn for this project.
6. White Vellum Paper Flower
White Vellum Paper Flower – Simply make a bunch of these garlands and string them up vertically for a "curtain effect". It's extra pretty and unique.
Booth layout and vendor behavior are things that will improve with experience.
After every show, examine what you could do better and then make the necessary changes before the next show.
Learn from mistakes. Garner wisdom from successful vendors. Ask for feedback from neighboring craftspeople.
With time, you'll become the sort of successful vendor from whom other craftspeople will seek advice.
I live in the one of the most beautiful places in the world on the Sunshine Coast in Australia with my wife and our 2 dogs, Poppy and Mia. Since 2009 I have helped over 15,000 handmade business owners to grow their business with our software and
free tools
designed for todays entrepreneurial artisan.
Latest posts by Gary Capps (see all)