Are you wondering what you could be doing wrong why your sales are going down?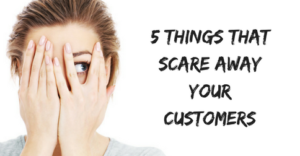 Maybe because you're scaring customers away?
Customers don't expect your business to be perfect. But they expect it to work the way they like it. So make sure that you don't give them reasons to get scared.
Here's what I am seeing as the sure-fire ways to scare away customers, which seems to be the way to do handmade business these days.
1. Not Saying Thank You
This is not something new, yet still an effective one. After you shipped your products to your customers, make sure you follow up with them if they have received it and say thank you. If you're too busy to do it. A thank you card on the package will do.
Taking small steps to personalize a customer's experience can go a long way. Being polite and courteous is important if you want loyal customers so make them feel valued.
According to a study published by the Journal of Applied Psychology, waiters were shown to increase their tips by 21% by simply following up with customers after their purchase. When your employees show their willingness to help, customers will be reaffirmed that made the right decision ordering your products.
2. No Contact Info
If somebody ignores your questions, you don't usually wait until they start caring but you just ask somebody else, right? Well, this is exactly what will happen to your online business if you don't provide contact data for your customers or provide them with unresponsive one. You will miss sales, their possible referrals and valuable feedback on your services. That's way too much to lose.
3. Making Your Customers Wait
Nobody wants to wait. Make sure you answer your customers query as soon as possible. Don't forget, your competitors are just around the corner. If consumers get frustrated because they have to wait for too long, they'll most probably choose the other option.
If you have a website, page loading time is one of the most important aspects of online customer experience. Nobody cares about fancy features, if the only thing they see is a rolling circle in the web browser tab. After a few seconds, you lose them. Even Google rewards quick loading times with higher ranks.
4. Destroying Their Trust
There are a lot of sellers who makes gimmicks just to sell. If you advertised a discount or a sale, don't surprise them with hidden charges.
You may have made a profit in this one purchase, but in the long run you've lost the customers' trust. And long-term profit is what you really need.
5. Not Handling Unforeseen Problems Well
No business is perfect and disappointing customers in inevitable for every business. Whether it's a product failure or miscommunication, don't get caught without a plan to recover from a customer service blunder and deal with negative feedback professionally. Not having a clear path to resolution will leave your customers even more frustrated, and you'll miss out on the opportunity to earn back their loyalty.
In addition, here is Renae Christine's 5 ways to scare away customers:
Now that you know to avoid these customer service oversights, you can focus on fun, positive interactions and creating a solid base of loyal customers.
Have any customer service dos or don'ts of your own to add? Feel free to share them in the comments.
I live in the one of the most beautiful places in the world on the Sunshine Coast in Australia with my wife and our 2 dogs, Poppy and Mia. Since 2009 I have helped over 15,000 handmade business owners to grow their business with our software and
free tools
designed for todays entrepreneurial artisan.
Latest posts by Gary Capps (see all)