Are you looking for any free or affordable Photoshop alternatives?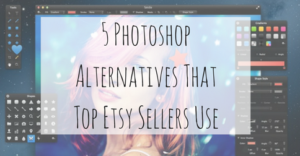 There are a lot of great Photoshop alternatives you can find online that are designed to enhance your pictures with a couple of clicks, but far fewer could be called a genuine alternative that handmade sellers enjoy using that is as good as Adobe Photoshop.
Here are some alternatives that are Etsy sellers approved:
1. GIMP
Jan Cal from YesterdayGetsBetter
"Gimp is free. I use it. YouTube has videos to teach you whatever you need to know, basic to very advanced."
GIMP stands for GNU Image Manipulation Program. GIMP offers a wide toolset, similar to Photoshop in many ways, and is a great alternative if you're looking for a no-cost image editor. The interface differs somewhat from Photoshop, but a version of GIMP is available that mimics Adobe's look and feel, making it easier to migrate over if you're ditching Photoshop.
Overall, this is a great option whether you've either got a limited budget, or want to move away from Photoshop for other reasons.
2. PaintShop Pro
Lois from SoigneeInCrochet
"I've been using PaintShop Pro for about 23 yrs. now. Just as good as Photoshop; so much cheaper by a few 100$."
PaintShop Pro is a photo editing program. It's also a graphics design program which is what it initially started out as being.
3. Paint.Net
Robin Slee from RobinSleeDesigns
"Look into Paint.net it is a free and open source alternative to 'photoshop'. It is not quite as advanced but it will cover a lot of your needs."
Paint.NET is an open source Photoshop alternative. It started life as a substitute for Microsoft Paint, but over the years it's grown into a powerful photo editor in its own right.
4. Photoscape
Karen Miller from CowgirlsLoft
"Photoscape is free and open source so will always be free. It's downloaded on my computer and I use it periodically. My favorite go to that is also downloaded on my computer and free is FastStone Image Viewer. Quick and easy for all photo editing. Don't let the name fool you, it is full featured."
PhotoScape is a fun and easy photo editing software that enables you to fix and enhance photos.
5. PicMonkey
Suz from CountryLaneHomeDecor
"PicMonkey is free and easy to use. You can upgrade to premium, but for basic edits, you don't need to. Cropping, resizing, sharpness, clarity, color, all free."
PicMonkey is great for photo editing, collage making, and graphic design.
Having high-quality images is important in every handmade business marketing strategy. But high-quality images doesn't have to be expensive when there are affordable tools to help you create perfect images.
So what's your favourite? If I missed anything please let us know in the comments below.
I live in the one of the most beautiful places in the world on the Sunshine Coast in Australia with my wife and our 2 dogs, Poppy and Mia. Since 2009 I have helped over 15,000 handmade business owners to grow their business with our software and
free tools
designed for todays entrepreneurial artisan.
Latest posts by Gary Capps (see all)