Is it your first time to join a craft show? Are you wondering how veteran sellers are doing before the big day?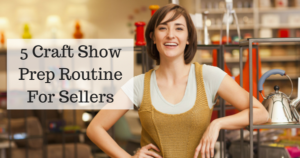 You might be the most experienced craftsperson ever, but let's face it: we're all human. We can make mistakes, but we can avoid making big mistakes if we prepare ahead and learn from the others.
1. Prepare A List
Making lists before craft shows is a good way to reduce the potential for making mistakes. This will help you not forget the basic things you need even the most obvious of things.
We prepared a free craft show checklist for you. You can download them here!
2. Craft Show Booth Rehearsal
Perform a craft show booth rehearsal before going to your show, especially if it's been awhile since the last time. Put your best items on the table. See what fits on your inventory space. Put up your signage. Pretend to process a transaction. There is no finer way to figure out what you're forgetting.
3. Inventory Check
You need to learn the correct formula and calculations on how much stock you should bring to a craft show. Make sure you bring enough stock and don't let them scatter on your booth. Write a schedule of what to make over the weeks or months leading up to the event and stick to it.
4. Accept Credit Cards
If you want to make more sales, you should offer more payment methods to your customers especially of you are selling expensive pieces. Check a credit card device (Square, PayPal, Etsy, etc.) you can use on the event. I suggest you order two credit card devices and bring them both, in case you have trouble getting one of them to work.
5. Business Cards
Take along more than you need when it comes to this type of thing. Business cards, or more effective are fliers that tell a little more about you and what you do. There is so much to see at fairs so having information for people to take home means they will be more likely to remember or recognise you in the future.
If you want to see how a seller prepares for a craft show, here's how Olivia Hayward is getting ready to vend at Renegade Craft Fair in San Francisco. She will take you to her actual preparation which includes everything from spray painting her booth setup to gathering all her items:

If you have more tips, please share it to us in the comments.
I live in the one of the most beautiful places in the world on the Sunshine Coast in Australia with my wife and our 2 dogs, Poppy and Mia. Since 2009 I have helped over 15,000 handmade business owners to grow their business with our software and
free tools
designed for todays entrepreneurial artisan.
Latest posts by Gary Capps (see all)