Are you about to take the leap into your first craft show?
At a craft show, appearances are important and how your booth is set up can have a direct impact on your sales. Great products can lose their appeal if they're surrounded by a poorly-designed display, so think about setting up a booth or table that makes people look and keeps them browsing.
Here are some craft booth display ideas you've never though of:
1. Paper Towels
You can use paper towel inside a suitcase to hold bangles, bracelets, headbands, etc. But glue or screw the central mandrel permanently. Add bracelets before going to fair.
2. Carpet
Make your customer feel at home just by bringing some homey accents into your booth. If you put some kind of carpet down, you just opened yourself up to some little old lady tripping and breaking a hip! My advice is if you do put the rug down (which I think looks really cute) you need to run duct tape all the way around to make sure it is stuck in place without any corners raised for tripping.
3. Duct Tape Rug
Using duct tape to design the floor can draw attention to your booth. You can even experiment with different designs, colors, and patterns of duct tape. There are so many duct tape patterns out there now, it's kind of crazy. In a good way.
4. Curtain Display
With a few simple steps, you can create a very open and airy fabric display. I love these burlap curtains because they are friendlierto look at than plain white tent panels. To combat the wind, simply add some weights to the bottom of the curtain. Colored fabric could be quite fun for bright and sunny days.
5. Others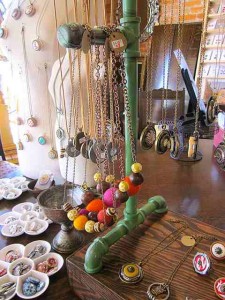 PVC Pipe Necklace Holder
Step Ladder
Cardboard Display
Additional Tip:
Create a sense of abundance to your craft booth but be careful that it doesn't look cluttered. There is a psychological benefit to having the sensation of abundance within the organization of your display. That does not mean clutter. Everything you have or have ever created cannot be on display at the same time. Abundance versus clutter provides the customer with a good feeling—the feeling that the exhibitor is a professional.
Beyond the struggle between abundance and clutter, one finds the realm of emptiness. If there aren't enough objects to attract the eye and give the sense of abundance, your customers will not want to stay in the booth either. You don't want your booth to look confusing nor do you want it to look "picked clean." What makes it worse is when you are not creative in your craft booth display. You don't want your potential customer wondering why you are at the show if your creativity didn't shine.
How about you? What are your craft booth display ideas?
I live in the one of the most beautiful places in the world on the Sunshine Coast in Australia with my wife and our 2 dogs, Poppy and Mia. Since 2009 I have helped over 15,000 handmade business owners to grow their business with our software and
free tools
designed for todays entrepreneurial artisan.
Latest posts by Gary Capps (see all)