While it's easy to organize your Etsy shop, organizing your craft supplies should not be difficult as well, nor does it have to be expensive.
If you're a handmade artist and like to be creative, chances are the materials and supplies that go into your hobbies have stacked up over time, and not in a tidy way.
It's time to spark that creative energy with an organized craft room.
Here's how to regain a bit of control and find what you need, when you need it.
1. Ice Cube Trays
A great solution to keep your push pins, beads, paper clips, rubber bands and other supplies is to use an ice cube tray. You can get these at any store for about $1 (for 3 of them).By Realsimple.
2. Craft Ribbon Dispenser
A nice way to keep those ribbons organized is to get a small plastic basket – the kind with holes in it. Just insert a wooden or plastic dowel rod that fits from one end to the other. Now, put your ribbon spools on the rod and poke the end of the ribbon through the holes in the basket. By Minimozblog.
3. Candy Jars
Use clear glass candy jars to store small scraps, like ribbon and fabric. By Better Homes & Gardens.
4. Ring Display
A cheap frame that you can get for less than a dollar can be turned into a beautiful ring display. This holds your rings and keeps them organized and it looks great hanging on the wall. By Tearosehome.
5. Twine Keeper
A sugar shaker works perfectly to dispense baker's twine or ribbon.By Whisker Graphics.
6. Book Box
Decoupage a wood bin with patterned papers for stylish storage. By Mod Podge Rocks.
7. Yarn Basket
This yarn bin is easy to make, attractive, and also portable. By Martha Stewart.
8. Cutting/Craft Table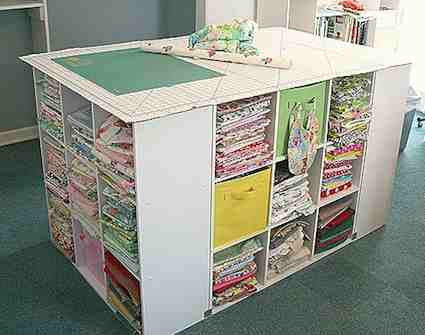 She made her table the easy way- by attaching four sets of cubbies using brackets. By Georgia Peachez.
9. Tiered Storage
Add candlesticks to tins to make the perfect tiered storage for any loose craft supplies.By Merry& Bright.
10. Washi Tape
This brilliant storage keeps all your washi tapes sorted and visible using dowel rods and adhesive hooks.By Scattered Thoughts of a Crafty Mom.
11. Sewing Patterns
I love this method for pattern storage – and it works especially well for those PDFs print outs. By Vanilla Joy.
12. Scrapbook Paper
Use clear plastic holders and hangers to make your scrapbook papers visible and easy to access. By Better Homes & Gardens.
13. Shower Caddy
You can mount a shower caddy to the wall to hold everything from gift wrapping supplies to scissors to notebooks. By Better Homes & Gardens.
14. Fabric Stash
I love how Cathe stores her fabric remnants in vintage luggage – all neatly wrapped and displayed. By Just Something I Made.
15. Embroidery Floss
Keep your floss from ending up in a big wad by wrapping the colors around clothespins. By Mrs. Jones.
16. Pencil Roll
This no-sew felt roll up is perfect for keeping your pens and pencils together and in color order. By Small + Friendly.
17. Spice Rack
This magnetic spice rack is perfect for holding small embellishments like buttons, paper flowers and chipboard. By Creating Keepsakes.
18. Desk Organizer
Recycle chip canisters into a desk organizer that can hold brushes, pencils and more. By Shelterness.
19. Thread Organizer
Virginia came up with this easy-to-make thread storage rack using dowel rods. By Fynes Designs.
20. Scissor Caddy
An old toothbrush holder becomes a great way to hold scissors and tools. By Sew Many Ways.
21. Paint Storage
This paint storage looks good – and is made from PVC pipes. By Today's Creative Blog.
22. Glitter Shakers
This is the perfect way to store your glitter and use it without dumping out the whole container. By Until Wednesday Calls.
23. Paper File
This is another great way to hold scrapbook papers – an organizing bin and hanging file folders. By Creating Keepsakes.
24. Wall Pegboard
A large pegboard just like Kellie's makes it easy to hang containers and dowel rods – perfect organization for a craft room. By Nest of Posies.
25. Paint Organizer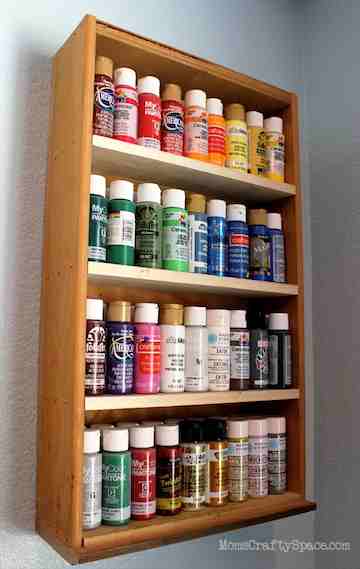 This old drawer is mounted to the wall, making your paints visible and easy to access. By Happiness is Homemade.
If you want to get an idea on how to set up your arts and crafts closet, check this video from Alejandra TV:

OK. So that's how you can organize all yourarts and crafts. I hope that was helpful. If you have tips that you want to share with us on organizing crafts, please leave a comment below.
I live in the one of the most beautiful places in the world on the Sunshine Coast in Australia with my wife and our 2 dogs, Poppy and Mia. Since 2009 I have helped over 15,000 handmade business owners to grow their business with our software and
free tools
designed for todays entrepreneurial artisan.
Latest posts by Gary Capps (see all)