Offering discounts can be an effective way to hook in shoppers especially on Etsy. There are plenty of discount strategies and with all those choices; it can be difficult to decide which approach to discounts – if any – is right for your Etsy store.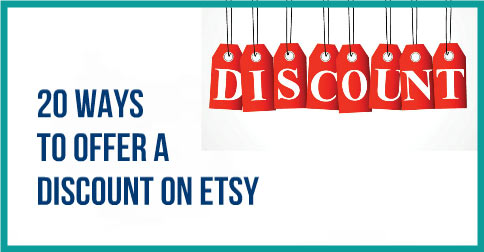 Etsy allows you to create three types of custom coupon codes.
Percent Discount – This type of coupon code is a flat percentage off each listing in a customer's entire order (not applied to shipping costs or tax rates).
Free Shipping – This eliminates shipping costs on the shopper's order; this can be limited to orders shipped within your country.
Fixed Dollar Amount Discount – Etsy allows you to take away a set amount, such as $5, from an order.
To get started, here are 20 tips to keep in mind when planning your discount promotions.
Change your avatar to promote your sale.
Post a notice in your shop announcement.
Offer a discount on your customer's next order by using your "note to buyer" section. Repeat customers rule!
Free shipping might encourage that impulse buy.
Introduce a new item with an introductory price or limited time offer.
Encourage additional purchases with specials like "Buy One Get One Half Price."
Support volume purchases with wholesale discounts.
Use business card with discount codes to hand out or hang on bulletin boards or during craft shows.
Promote your products on Craig's List with a special discount code. Then you can track where the order came from.
Have stickers made with promotional codes and use them when you mail out an order.
Send out discount codes and sale information on your Twitter.
Start a mailing list and send out specials and discounts.
Start a Newsletter to send out discounts and new product information.
Group promotions by Etsy Teams are an easy way to join together and promote a discount.
Seasonal sales could nudge your customer to buy now.
Spread the word of your discount on Etsy forums or blogs.
Reward your best customers with special discounts just for them.
Add SALE to your listing's title and to your tags.
Give a gift with purchase of a certain amount or item. Everyone loves a little something extra!
Tell people about your products and give them a special "friend code" to use on their first purchase.
Also, when hosting a discount sale, be mindful of timing and frequency. Offering sales too often can train customers to wait for a markdown before making a purchase. Customers may also start to think that your regular prices are too high.
So when should you offer a sale? You might have to go through a trial-and-error process before finding the right strategy for your shop.
Have you tried an off-the-beaten path promotion? Please share what you've learned in the comments.
I live in the one of the most beautiful places in the world on the Sunshine Coast in Australia with my wife and our 2 dogs, Poppy and Mia. Since 2009 I have helped over 15,000 handmade business owners to grow their business with our software and
free tools
designed for todays entrepreneurial artisan.
Latest posts by Gary Capps (see all)