Are you wondering how in love are you to crafting? There are signs for that! Don't misunderstand — we fully support your addiction.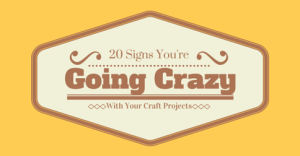 We just want to make sure you're aware of it. That's all.
You are made of glitter.
You feel like Martha Stewart more than Martha Stewart feels like Martha Stewart.
Calculating the price of any craft supplies such as bulk supplies including beads, yarn, stickers, ribbons, washi tapes, etc is as easy as counting 1 2 3.
You yell at projects when they don't work.
You would rather stay at home on a Saturday night to finish your projects.
You desk looks like it belongs to your daughter's study table, covered in crayons, markers and colored pencils. You still color and you are a grown ass adult. You still don't color in the lines, but now it's "intentional."
You find yourself fishing perfectly reusable ribbons and bows out of the trash bin at your daughter's birthday party.
You always want to use your partner's clothes for projects.
Your friends only need to check your Pinterest board to figure out what they're getting for their birthdays.
Your emergency contact list includes your friends, your husband, your mother, and Michaels. Because there's a good chance they might find you there.
You have a grand entrance at the craft store.
When you go to an antique store, you always have to haggle because if you were going strictly from the listed price, you would leave without any money.
You regularly budget every month for arts, crafts, beads, plastic eyeballs and double-sided tape.
You've also memorized each store's playlist.
You make craft store employees worry when you're gone for a few days.
You've cried while supply shopping.
There's not a pen, wooden spoon, picture frame or electrical cord in your home that you haven't upgraded.
You finally quit that TV snacking habit by learning to knit. Now you've just got a way-too-much-yarn problem. But, hey, it's never been cozier!
Your neighbors think you don't recycle, but you do. Those glass jars are storing your ever-growing button collection, not sitting in a landfill!
You can't remember what life was like before you discovered DIY.
Did I forget something? Please let us know in the comment box below.
I live in the one of the most beautiful places in the world on the Sunshine Coast in Australia with my wife and our 2 dogs, Poppy and Mia. Since 2009 I have helped over 15,000 handmade business owners to grow their business with our software and
free tools
designed for todays entrepreneurial artisan.
Latest posts by Gary Capps (see all)