Are you participating in any online groups?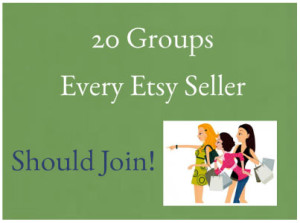 There is a virtually endless number of groups one could join centered on nearly every topic imaginable, and more are formed every day. Every group has its own purpose, whether a general theme (crafting) to something specific (jewelry, quilting, etc).
For a shop owner this is an important step towards success on the handmade industry. There are many groups online and in your area, all with their own distinct purpose. Whether you need a general shop critique, social media advice, or help with SEO, there is a group for you.
The benefits of joining groups include:
Endless source of new tips and trick to get noticed and make sales
Feel part of the arts and crafts community
Share new listings and get visitors to your shop
Request and received feedback and advice on your listings and shop setup
Connect with other Etsians on your social media
Share links to your other places online – such as pinterest, stumble and blog posts.
Connect with Etsians in your local area
Keep up to date with what's going on within the Etsy community
Market your Etsy shop and help promote other artists and crafters.
With thousands of groups to choose from, how do you know which groups are best for you? Here are our top choices:
Online Groups
Etsy is a popular site for those who like to purchase handmade gifts but it's also popular among those who like to create in their spare time and share some of their unique creations with the world. Aside from Etsy teams, here are some groups for Etsy sellers you can find on Facebook:
Local Groups
Then there are a lot of local groups, I would highly recommend joining/liking them.
Etsy Chicago – 166 members
Etsy Australia – 870 members
Handmade Enthusiasts –(San Jose, CA) – 626 members
Others
There are a lot of other groups you can join. Here are a few groups that you will enjoy.
There are literally thousands and thousands of people just like you who would love to exchange ideas and share a customer base. These groups are a community feature where you can gather with peers to socialize, get advice from experienced members, and share information about running a business in your area.
Remember to observe the rules you agree to when becoming a member, and express your appreciation when you get the answers you were seeking.
I live in the one of the most beautiful places in the world on the Sunshine Coast in Australia with my wife and our 2 dogs, Poppy and Mia. Since 2009 I have helped over 15,000 handmade business owners to grow their business with our software and
free tools
designed for todays entrepreneurial artisan.
Latest posts by Gary Capps (see all)