Whether you've been to a successful or disappointing craft show, there is something you need to do that you should never forget when participating craft shows – gather emails.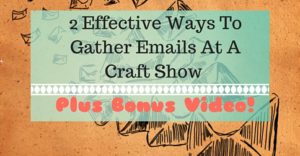 Whether you have just started using e-mail marketing for your crafts business or are well-versed in the tool, it's still helpful to know how to grow your e-mail marketing lists.
A larger list means more potential customers at trade shows and events, and more opportunities to promote offers, coupons and new products to increase sales.
So here is some of advice for you to effectively gather emails at a craft show:
Shows are a great way to develop your customer database and start your email marketing campaigns. You can make it traditional, modern, or your own way.
Traditional – Try putting a fishbowl on your table and offering people a chance to win a piece of artwork in return for giving you their contact information. Giving away promotional items with your company's name and logo works, too. These people are going to be going from booth to booth to booth and you can't rely on them to remember you. If you get their email address, you can send them your newsletter and stay in touch. This will help you turn potential customers into loyal customers.
Modern – Let people sign-up for special offers. Collects email addresses and store them locally on your iPad. An app called Chimpadeedoo automatically pushes the addresses to your MailChimp list even without Wifi or internet connection. If you are not using MailChimp, you can use Prospect Snap via iPhone or iPad. This app replaces paper signup sheets so you don't have to manually enter emails into your newsletter after the show.
Enter all your new emails into your database and send out a newsletter of gratitude to everyone who stopped by your booth and supported you. Share links to your Etsy shop and social media.
For more tips, watch this video by Renae Christine and I assure you that you will get many takeaways here:
So many takeaways on this video. So what's your favorite takeaway?
We hope this guide has helped you gather customer emails. If we missed something, please let us know in the comment box below.
I live in the one of the most beautiful places in the world on the Sunshine Coast in Australia with my wife and our 2 dogs, Poppy and Mia. Since 2009 I have helped over 15,000 handmade business owners to grow their business with our software and
free tools
designed for todays entrepreneurial artisan.
Latest posts by Gary Capps (see all)