Are you wondering what's going to be popular this year?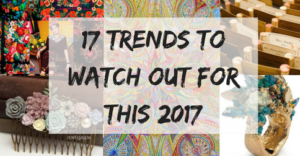 Actually, I run as far away from trends as possible. If you base your business on trends that's all you'll be…fleeting. But that's just me!
You don't need to follow trends however, it can be useful to know what the current ones are to get more inspiration for your handmade business.
According to Retailing Insight Magazine, here are the top 17 trends for 2017:
1. Pantone's Color Of The Year "Greenery"
Pantone's 2017 color of the year example. Image by Delia Creates
2. Mauve And Lilac-Gray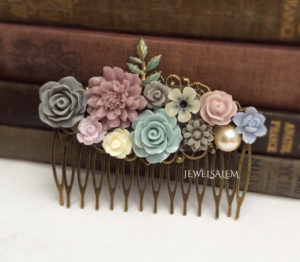 Image from Jewel Salem
3. Woven Baskets
Image from Décor Pad
4. Sacred Geometry Patterns
Image from Jennifer Brandon Elliott
5. Cork
Image from The Knot
6. Tactility
Furniture, décor, and apparel that stimulate our sense of touch.
Image from Ghooz
7. Sustainable Cotton
Cotton grown without the 13 most-toxic chemicals.
Image from Ecouterre
8. Ethical/Anti-Oppression Fashion
Image from Fashionista
9. Victoriana Fashion
Image from Fashionising
10. Plus-Size Fashion Revolution
Image from Girl Talk HQ
11. 1980's-Style One Shoulder Tops
Image from Space Coast Daily
12. Danish And Dutch Master Painters
As fashion inspiration (e.g., Eckersberg, Rembrandt, Vermeer)
Image from Hubpages
13. Wedding Pantsuits
Image From Happy Wedd
14. Wear What You're Thinking
This could be political/cultural quotes on clothing and accessories
Image from Flirty Diva Tees
15. Teal And Purple Hair
Great hair inspiration for your upcoming craft shows. Image from Lovely Dyed Locks
16. Goth-Inspired Gardens
Image from Pattern Curator
17. Ombre Accents
Image from Craft Hubs
So that's the 17 trends to expect this year. Are you happy with the forecast? Did you get an inspiration for your handmade business? Please let us know in the comments.
I live in the one of the most beautiful places in the world on the Sunshine Coast in Australia with my wife and our 2 dogs, Poppy and Mia. Since 2009 I have helped over 15,000 handmade business owners to grow their business with our software and
free tools
designed for todays entrepreneurial artisan.
Latest posts by Gary Capps (see all)