Are you looking for opening more than one shop in Etsy, what to name them, what to name their websites and the possibility of the "shop name change coming soon"?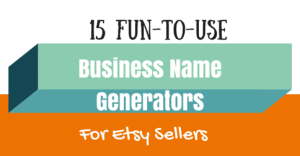 Business names for online handmade stores are one of the first pieces of marketing most of your visitors will see. The right business name can instill confidence and the wrong one can cause alarm. Most importantly, your domain and business name are an important part of your overall brand.
If you've tried to come up with great business name that is unavailable, you know it can be extremely challenging. That's where online name generation tools come to the rescue. Business name generation tools typically take a word you enter and add additional words and prefixes, showing you only available domains that match.
Yes it says domain name creator, but these could be business names too – most of us move to or have domains. If you're stumped about naming or just want a laugh in some cases. I hope these sites help.
Keep your business name short and memorable. One or two words is best. Keep in mind that the top 100,000 websites, on average, have nine characters in their domain names. Also, be careful when choosing a domain name that you're not choosing a name too close to someone else's trademark to avoid problems down the road.
Click the link to learn more about finding the right business name for your craft online store.
Getting your business name right is the first step to building a long-standing online business. These tool should help you generate some ideas and assist you in registering your catchy business name.
So what are your favorite tools for finding and registering the best domain names? Let us know in the comments.
I live in the one of the most beautiful places in the world on the Sunshine Coast in Australia with my wife and our 2 dogs, Poppy and Mia. Since 2009 I have helped over 15,000 handmade business owners to grow their business with our software and
free tools
designed for todays entrepreneurial artisan.
Latest posts by Gary Capps (see all)