Are you looking for the best craft shows in the world to shop or sell handmade stuff?
Make your way to one of these inspiring craft fairs this 2015, where you can indulge your senses and get to know the worlds – most creative craftspeople. Shop around and find a great gift, some artwork for your living room, sell or simply meet some like-minded crafty types.
1. Craftland (Providence, RI)
Craftland is a store for handmade enthusiasts open all year round, but things get even more craftily awesome during their holiday show: they expand their offerings by adding over 50 additional artists. t
2. Strawberry Swing Indie Craft Fair (Kansas City, MO)
The Strawberry Swing happens twice each year with The Summer Swing and The Holiday Swing.
3. Crafty Wonderland (Portland, OR)
Crafty Wonderland showcases handmade products through the work of over 250 artisans. This one is huge! And held twice a year (along with a year round storefront).
4. City of Craft (Canada)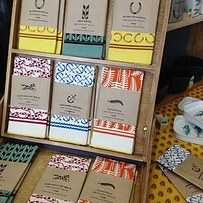 City of Craft features vendors Falconwright, Sweetie Pie Press and bookhou. Who will show up this year? Go see!
5. Craft Lake City (Salt Lake City, UT)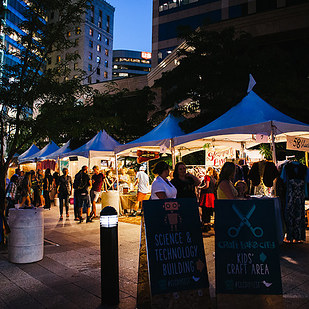 Craft Lake City happens in August. Their definition of "craft" includes all things handmade (including food and tech-related creations), so expect a lot of variety.
6. Renegade Craft Fair
The Renegade Craft Fair is popular among crafters for their premier network of events serving the DIY craft community. Your new goal is to eventually visit them all or better yet, join them. They fourteen fairs a year in Austin, Chicago, London, Los Angeles, Brooklyn, Portland and San Francisco.
7. The Finders Keepers (Australia)
The Finders Keepers markets was first founded in Sydney, they have now branched out to Brisbane and Melbourne.
8. Echo Park Craft Fair (Los Angeles, CA)
The Echo Park Craft Fair showcases over 70 artisans and designers at Mark Sennett studios in Silverlake. This event happens twice a year and you'll find beautiful jewelry and clothing displays.
9. The Handmade Market (Raleigh, North Carolina)
The Handmade Market is a semiannual event occurring in both November and May (perfectly timed for Mother's Day and holiday shopping).
10. Crafted at the Port of Los Angeles (San Pedro, CA)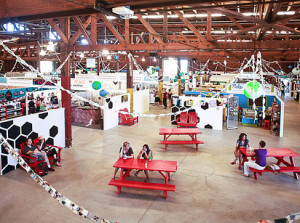 Crafted at the Port of Los Angeles is a permanent craft marketplace that happens in a restored warehouse from the 1940s. It showcases the work of over 100 artists and craftspeople: "52 weekends a year of handmade happiness shopping, taking classes and meeting the makers." Admission and parking is free.
11. Indie Craft Experience (Atlanta, GA)
The people behind Indie Craft Experience (ICE) placed many events this year. The organizers want to give people in the Atlanta area the opportunity to buy handmade creations and show people a good time while doing it: a mission to be proud of.
12. Mathilda's Market (Australia)
Mathilda's Market is a place that sells things for babies and kids. Cuteness overload! They hold markets in over ten different cities in Australia and it would be the absolute perfect place to go to buy a unique gift for a baby shower or birthday party.
13. Holy. Shit. Shopping. (Germany)
Holy. Shit. Shopping. Is an awesome market held pop-up shop style in four different German cities over the course of the four Advent weekends.
14. Handmade Arcade (Pittsburgh, PA)
Handmade Arcade is a handmade marketplace in its 11th year. You will find Innovative jewelry, scary and sweet stuffed creatures, knitted accessories, silk screened prints and tees, felted fashions, hand bound books, spun yarns, stationery, 'zines, housewares" and so much more.
15. Unique USA (Los Angeles, CA)
Unique is the biggest shopping event in the country featuring goods made in the USA. Currently, you'll have to go to Los Angeles to visit one of their markets, but they hope to start events in New York and San Francisco soon.
Bonus:
Portland Flea-for-All (Portland, ME)
Portland Flea-for-All is the place to go if you're looking for antique furniture, a vintage dress or a pair of handmade earrings. It's open on weekends all year long.
That's it for now. Did we miss your favorite craft fair? Please let us know in the comment box below.
I live in the one of the most beautiful places in the world on the Sunshine Coast in Australia with my wife and our 2 dogs, Poppy and Mia. Since 2009 I have helped over 15,000 handmade business owners to grow their business with our software and
free tools
designed for todays entrepreneurial artisan.
Latest posts by Gary Capps (see all)