You're full-speed into your online jewelry-making business and just made a ton of sales. Or, it's your friend's birthday and you want to give her those amazing earrings you finished. What's next? Now is the time to create unique and eye-catching packaging designs to accompany your custom jewelry. Including some pretty packaging in your shipment is a fantastic way to promote your brand and make customers and friends feel as though they are truly getting a one-of-a-kind piece. The best part of all – it doesn't need to be expensive or complicated!
This process can be done with a just few household items or recycled materials! Below are 12 adorable and environmentally friendly ideas for wrapping or packaging your jewelry. Most of them only take a few minutes. Happy packing!
1. Book Page Gift Bags
Fold a page from an old book or newspaper into a gift bag! Find DIY instructions for gift bag folding here. After folding, simply use a paper clip to fasten the bag shut, or use a punch to poke holes in the top and tie with a ribbon. Embellish your gift bag with lace, decorative tape, or a stamp with your logo, or a symbol that reflects your brand. Readers and book lovers will especially love this idea.
2. Brown Paper Bags & Lace
Your friends and customers will adore these precious little bags, and probably will want to keep them forever! These Kraft bags are made of 100% recyclable materials and are completely biodegradable. The Kraft bags can be found here. All you need are some lace and ribbon!

Jewelry Bag DIY Steps
3. Wallpaper Earring Cards
Get this cool vintage look for your earrings! Simply cut out squares of recycled cardboard paper and attach old wallpaper scraps! Then, use a punch to create the holes, and that's it – you've got an entire stack of cute earring cards. This idea works great if you're selling at a crafts fair, especially if you display the earrings in a shallow antique drawer like this one.
Vintage wallpaper earring cards
4. Lace Hang Tags
This packaging idea is perfect for selling and giving away your beautiful necklaces! The hang tags make packaging super easy, while feminine lace adds a sweet, delicate touch. Pick up eco-friendly lace and hang tags online or at your local crafts store. These tags are simple to make, and your stunning jewelry will pop out against the simple packaging design. Add a sticker on the back with your logo and contact information, or leave a blank space for a personal message.
5. Fold-Over Hang Tags
Eco-friendly hang tags are perfect for packaging and branding necklaces and bracelets. Stamp the tag with your logo or a pretty design, and you've got great packaging for that gorgeous bracelet made from gemstone beads. A small hang tag allows for product visibility while still allowing easy organization and awareness of your brand. Place your designs into an eco-friendly Kraft paper box (mentioned later in this list) with your logo – customers will appreciate and remember the professional presentation!
Gemstone bead bracelet hang tag

Stamped bracelet tag
6. Glass Vial
Add eye screws to a cork stopper and hang your earrings in a glass vial. It's a simple, elegant, and practical way to present your designs. To store rings and necklaces, roll up a piece of paper with your company name, logo, or personal message for a cute "message in a bottle" concept. Your customers will love the idea of being able to reuse the vials to display or store their jewelry.
7. Kraft Boxes with Flowers and Twine
A few flowers and a little bit of twine can go a long way in creating pretty packaging. Use them to decorate brown Kraft paper boxes, which are fully made from recycled materials. Find them at Michael's or any other craft store. To personalize, stamp with your logo, attach a Kraft paper tag, or stick your business card or personal message inside the box!
Add eco-friendly gift basket filler inside the boxes to protect your jewelry. Your customers will love this rustic, "DIY" look that is trending right now. This idea is perfect for gift giving, selling at a craft fair, or shipping out to customers.
Jewelry Package Flowers Greenery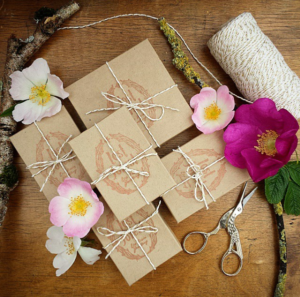 Stamped Kraft Box
8. Organic Cotton Muslin Bags
We love burlap just as much as the next craft enthusiast. However, another fabric option for bagging your jewelry is with organic cotton muslin! These bags are biodegradable and are easy to decorate with stamps, markers, recycled clothes, or anything else you can think of. Get creative with your designs! These small bags work great for bracelets, necklaces, and other goodies. These bags are adorable on their own, or they can be placed inside paper boxes for shipments.
9. Kraft Boxes with Twine and Keys
Another way to beautifully package your Kraft recycled boxes is with twine, recycled decorative tape, and old vintage keys! The keys will look cute by themselves, or, if you wanted to glam it up, glue pearls or gemstones to them. Use the same type of gemstones as the jewelry inside the packaging, or try something different! This is a cool idea for necklaces as well – just slip them on a black gold plated metal chain, and you've got an amazing piece of vintage-inspired jewelry!
Kraft Boxes Vintage Keys Pinterest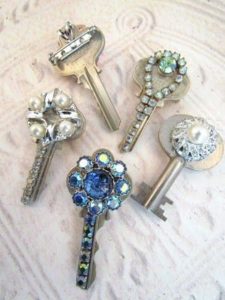 Gemstone Embellished Keys Pinterest 
10. Natural Dye
Flower Dyed Jewelry Tags Pinterest
Did you know that you can make beautiful dyes from flowers, leaves, coffee, and tea? You can dye Kraft tags, recycled cloth, and other eco-friendly. materials. Find instructions and tips by searching on Pinterest – here are a few: Natural Fabric Dyes and Natural Dye Color Chart. One quick way is to use a hammer to mash out the colors from your favorite flowers onto the fabric!
11. Square Pillow Gift Boxes
These adorable pillow boxes are perfect for gift giving! Find pre-made Kraft boxes at stores like papermate.com, or turn an ordinary toilet paper roll into an adorable gift box for your jewelry. This is an ideal way to both protect and show off those stunning beaded bracelets and necklaces you've worked so hard on. Let the creativity flow!
Jewelry Display Pillow Box Pinterest
Pillow Box DIY Guide Pinterest
12. Reclaimed Items as Wrapping
Reused items jewelry packaging Pinterest

Jewelry Burlap Flowers Pinterest
Use reclaimed items from around the house to wrap and decorate your jewelry boxes. Some ideas include a piece of an old sweater or thrift store clothing, old Christmas ornaments, buttons, book pages, and fabric scraps. You can even make "burlap flowers" from burlap or old lace and attach pearls or jewels to match your jewelry.
Closing
We hope you are inspired to try some of these ideas. There are a million ways to create beautiful packaging to accommodate your custom jewelry, while also eliminating waste. The key is in discovering a design that complements your unique personal brand and style! Have fun!
I live in the one of the most beautiful places in the world on the Sunshine Coast in Australia with my wife and our 2 dogs, Poppy and Mia. Since 2009 I have helped over 15,000 handmade business owners to grow their business with our software and
free tools
designed for todays entrepreneurial artisan.
Latest posts by Gary Capps (see all)