Do you want to attract the customers you want and keep them coming back to make more purchases?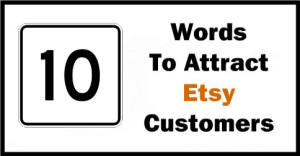 There is trick for that!
If you can confidently say that the traffic you are driving to your Etsy shop or website is converting into leads and then converting into customers, then that's fantastic. But what most of us will find when we start digging into these numbers is that the traffic isn't generating the results we thought it was.
It's pretty hard to attract more of your ideal customers if you don't know the words they're using to search for what you offer or what will make them listen to you.
Here are 10 trigger words by Sasha Evdakov that you can use in your website, videos, or sales presentations in order to generate some buzz in-order to motivate people to buy your handmade products.

Developing a strategy to gain more customers takes time. Don't give up if you aren't seeing results right away. If you go through each of the tips on the video, you will see an increase in qualified traffic coming to your site, craft booth or physical store.
I live in the one of the most beautiful places in the world on the Sunshine Coast in Australia with my wife and our 2 dogs, Poppy and Mia. Since 2009 I have helped over 15,000 handmade business owners to grow their business with our software and
free tools
designed for todays entrepreneurial artisan.
Latest posts by Gary Capps (see all)