Are you looking for fresh marketing strategy to apply to your handmade business?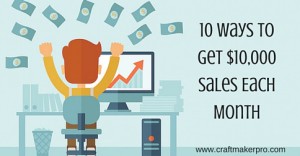 There's a way for you to increase your online sales and get $10,000 each month. And don't worry, you won't have to do anything shady or participate in any shenanigans.
The biggest challenge that online store owners face is increasing traffic to their ecommerce store. Knowing where to start and how to stand out from the thousands of other shops that are competing for the same traffic is a daunting challenge.
Also, many handmade businesses rank highly in search engines and get lots of traffic but achieve low conversion rates when it comes to selling online. There are many potential reasons for this, from pricing and product to navigation and security.
If you think carefully, the explosion of growth in the online selling world has only made it tougher for online handmade sellers to attract the critical mass of visitors needed to stay in business.
Check this video to see how Veronica Foley survived this problem and made $10K each month on Etsy as interviewed by Renae Christine from Rich Mom Business:
Sometimes, you just never know what strategy or angle is going to work best for your handmade business…until you test it. This applies even to your star-performing strategies, because there's always room for improvement.
I suggest that you test it. Testing is the only way to discover what works–and what doesn't–on your handmade business website, and it's the best way to start increasing your sales exponentially.
And if you take the plunge and use just one of the following tips mentioned in the video, you'll learn just how true this is, especially when you start seeing a dramatic improvement to your bottom line.
I live in the one of the most beautiful places in the world on the Sunshine Coast in Australia with my wife and our 2 dogs, Poppy and Mia. Since 2009 I have helped over 15,000 handmade business owners to grow their business with our software and
free tools
designed for todays entrepreneurial artisan.
Latest posts by Gary Capps (see all)