Awesome packaging can really make your products stand out!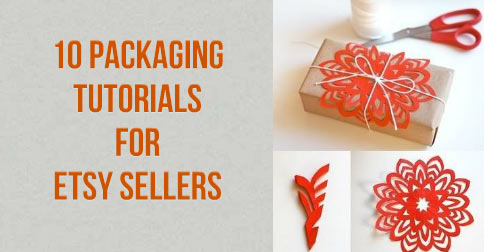 First impressions make an impact, and everyone loves to open up a box to find something wrapped with a little extra care and love.Try to delight your buyer not only with your piece, but also with your packaging. Don't just put your crafted item in an envelope and send it for shipping; instead, develop packaging that, in addition to protecting your item, looks good.
But first, make sure that you avoid the common shipping issues faced by handmade sellers. When it enters your buyer's home, it needs to be in excellent shape. Here are some guidelines for you:
Be sure to pack fragile items carefully. Use cushioning materials such as bubble wrap or shredded paper to prevent breakage, and employ plenty of sturdy packing tape to ensure that your package isn't tattered en route.
Pack bendable booty — such as art prints and the like — with a firm, flat backing.
If, like the Wicked Witch of the West, your item is moisture averse, slip it into a sealed plastic bag before sending it on its way.
Take a look at some of these ideas and tutorials for packaging your way to repeat customers for life, or simply being known as the giver of the prettiest presents in the family.
DIY Paper flowers tutorial from DIY Pinterest. A nice way to decorate packages without buying wrapping paper or bows.
Pretty boxes with a simple stamp and string tutorial from Bead Bash Blog
Paper bag, baker's twines and tag packaging tutorial from Nestled Blog
Gift bags made from newspaper tutorial by Kenh14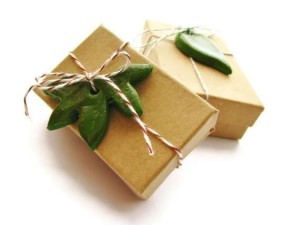 Cute boxes by Heather Everson Design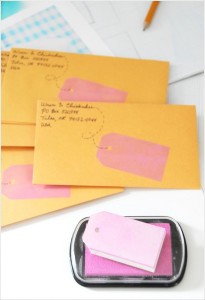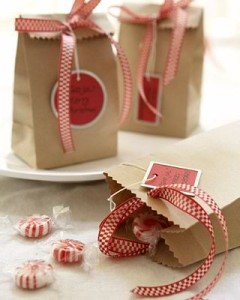 From Absolutely Beautiful Things
From Just Make Stuff
Cute favor bag idea from Shabby Chic Crafts
There's more! Don't forget to add:
A handwritten note – Make your customers happy by sending them a personalized note. It doesn't have to be a 40-page opus; just a few lines thanking the buyer for the purchase and wishing them well will do. You might also use this opportunity to ask your buyer to leave feedback about you on Etsy.
Freebies – Make your customers happier by giving away cute items such as loombands, bookmarks, post cards, etc.
Business cards – This will help your customers remember you. Slip two business cards into your package – one for your buyer and one for her friend.
An invoice – Unless the package is a gift and it's being sent directly to the recipient, include a printout of the invoice in your package. This is especially important if your buyer lives abroad; it'll keep the package from being held up clearing Customs. Make sure you've marked the item as paid if the person paid by check or money order.
Care Instructions – If the item you're sending requires special care — for example, the print of the shirt should not be ironed – include appropriate instructions in your package.
Do you have a favorite? I'd love to hear about it in the comments!
I live in the one of the most beautiful places in the world on the Sunshine Coast in Australia with my wife and our 2 dogs, Poppy and Mia. Since 2009 I have helped over 15,000 handmade business owners to grow their business with our software and
free tools
designed for todays entrepreneurial artisan.
Latest posts by Gary Capps (see all)