As we all know, movies are a great source of inspiration which is why I have hand-picked top 10 movies that is perfect for creative artists.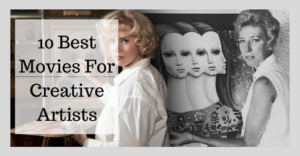 So what are the best movies about being a creative artist? Take a look at this list and you'll see top movies about people, inspiration, art and creativity.
1. Big Eyes
Big Eyes – A movie about the awakening of painter Margaret Keane, her phenomenal success in the 1950s, and the subsequent legal difficulties she had with her husband, who claimed credit for her works in the 1960s. This movie is not only about your legal rights and inspiration for future craft shows but with this, you will also see your worth as a woman in this niche.

2. The Pursuit of Happyness
The Pursuit of Happyness – This heart-warming movie as about a struggling salesman that takes custody of his son as he's poised to begin a life-changing professional career. This is a great movie that will teach you not to give up in life.

3. Lust for Life
Lust for Life – This movie is the quintessential Hollywood biopic about the quintessential tortured artist. Kirk Douglas plays Vincent Van Gogh. An interesting biography of one of the greatest artists of all time.

4. The Danish Girl
The Danish Girl – The remarkable love story inspired by the lives of artists Lili Elbe and Gerda Wegener. Lili and Gerda's marriage and work evolve as they navigate Lili's groundbreaking journey as a transgender pioneer. See how art affects this form of love.

5. The Social Network
The Social Network – See how your favorite social media platform started and why Facebook is still one of the best marketing tools if you are marketing your handmade products.

6. The September Issue
The September issue – It is the issue of the Vogue magazine that is considered the most important one of the year. If you are an artist or crafter related to fashion, this film takes us backstage to the making of the 2007 September issue. It is a story about talent, passion and devotion. We get to see the work of Anna Wintour, and witness the intense effort that goes into the process of creating a magazine issue.

7. Ai Weiwei: Never Sorry
Ai Weiwei: Never Sorry – Ai Weiwei is one of China's most controversial artists. Ai Weiwei, shares a fragment of his life, his art and his projects. He is an internationally recognized artist that is also an activist. The latter has gotten him in trouble with the Chinese government.

8. Pollock
Pollock – A film about the life and career of the American painter, Jackson Pollock. Another movie that will inspire you and help you how to respond to your critics.

9. The Art Of Love
The Art of Love – This film stars Dick Van Dyke as a struggling artist who fakes his own death so his works will increase in value. We don't recommend this tactic though. This is a 1965 film so I'm sorry and I can't embed a trailer of it below.
10. Girlboss
Bonus: If you are searching for a good series that is related to selling online marketplace such as eBay, Etsy, etc. This Netflix original is a must-watch!
This is a list not of "art films" but of movies that feature art, handmade and entrepreneurship as a central theme. I tried to include all of the best ones here, but if you believe I missed one, please feel free to let us know in the comments.
I live in the one of the most beautiful places in the world on the Sunshine Coast in Australia with my wife and our 2 dogs, Poppy and Mia. Since 2009 I have helped over 15,000 handmade business owners to grow their business with our software and
free tools
designed for todays entrepreneurial artisan.
Latest posts by Gary Capps (see all)